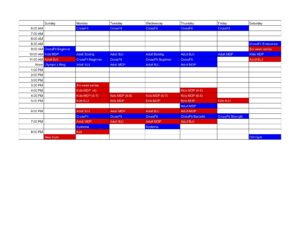 As many of you have heard, we are opening a second martial arts space about 2 blocks away from our current space.
What does this mean for the schedule?
For CrossFit, nothing has changed. The times, the location, it all stays the same.
For the martial arts, much has changed! The day classes are the exception and they remain at the same time and at the same location – with the lovely addition of another morning BJJ class on Thursday. The kids classes stay at the same times but almost all of them move to the new space. The exception are the weekend classes. The Saturday and Sunday kids classes are staying at the old location. Notice that there are several new classes on the schedule, including a Tuesday and Thursday 4:30 class for 6-8 year olds!
The adult evening classes are almost completely different! Check it out and LET US KNOW if you have questions.
Remember, this schedule starts on Thursday, November 1st. If you are a martial arts student and have the night free, you should be there to help us open the new space.