Self Defense & Outreach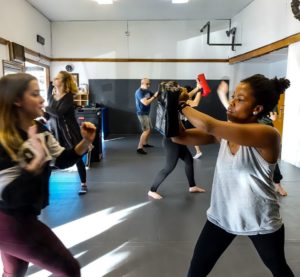 We offer Self-Defense seminars that are open to the public as well as fully customizable private seminars. If you are interested in our public self defense classes, click on the events tab and see what we have currently available. If  interested in a private self defense seminar, consider the following options and then shoot us an email outlining what material you want to see covered, the number of students, ages of students, possible challenges and concerns of students, and the location of the seminar. Clients frequently book for corporate/work training, Au Pair groups, scout troops, or birthday parties.
We also offer School Visits, with Martial Arts, Imagination Yoga & Mindfulness, or ASL + Ukulele Sing-Alongs for preschool-age students and up…all the way through to high school-age students. Content is driven by context and developmental stage. Write for specifics.
Content
          In our public self defense seminars, using physical drills, games, and discussion. We cover:                                                                                                                                                          
Situational awareness (noticing what is going on around you)
Setting physical boundaries (knowing what is okay for you and what is not okay)
Using your voice and body language as a tool (saying "no" and "stop")
Understanding who the threat is (acknowledging that family and friends are statistically a bigger threat than strangers and that individual identity may dictate who the threat is)
Simple strikes (how to hit with your elbows and knees)
Breaking simple grabs (how to escape a wrist grab)
Escaping a pin (how to get off the ground if someone is on top of you)
For our private seminars, we can use this same formula, focus more on a specific element, and/or are happy to include outside material your group may be interested in.
Student Numbers
In our public seminars, we try and keep the ratio of teachers to students to around 1 instructor to every 5 students. This insures that everyone who takes the seminar gets some personal attention as well as time to play with the ideas with their fellow students. For private seminars, we recommend keeping the ratio at about 5 students per every instructor to insure quality but we are happy to adjust things. As a general rule, the more instructors that are present, the more we will charge for the session.
Student Ages
In all our Self-Defense seminars (public and private), we ask that children who are between the ages of 6-12 have an adult present. This means the adult can either participate in the seminar, (which we recommend as a way of setting the example) or sit and watch. We allow students who are 13 and up to participate without an adult present. Experience has taught us that this policy helps with class management, makes for smoother classes and a more positive experience for all.
Challenges and Concerns of Students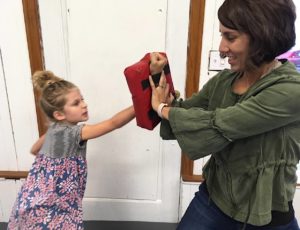 Self defense is a physical, mental, and emotional endeavor. In this regard, it will challenge students on all three of these fronts.  With our seminars, we ask people when they sign up to (if comfortable doing so) please share with us any challenges they may have in participating [e.g. medical/physical ailments, language differences, learning disabilities, etc.]. We are also happy to know of any concerns they may have concerning working with others [e.g. adverse to having other people touch them, etc]. We use this information to help us customize the seminar with the goal being to challenge, but not overwhelm students.
Location
For public seminars, we generally work out of one of our two schools: Southwest Portland Martial Arts or North Portland Martial Arts. For private seminars, we are happy to use one of our schools or travel to a nearby location. We do charge travel & transport fees, the cost of which varies according to distance traveled.
Cost
The minimum cost for our private seminars is $200, and we charge $20 per participant for a 1.5 hour class. Cost may change based on many factors, including age range, content choice, number of teachers, and location. Electronic resource packets are included in all cases as well. Classes are not always confined to this time frame, but experience has shown that short learning experiences are far safer and far less overwhelming for beginners.
Often, people (an individual, or small group of friends or co-workers) write to ask after our seminars, and we are able to schedule a public seminar at our location that serves to work for us, and we then open registration up to the general public as well.
The cost of  School visits vary according to length of class, distance traveled, and programming (equipment transport). Write for specifics.
Contact
Email us to set up a seminar or school visit.  Please include as much detail as possible about what you want your seminar to look like. We are experienced movement and academic teachers, and can easily work with you to create a highly enjoyable experience for your group. Nearly every seminar, attendees walk away a little flushed, grinning/laughing, and comment on how much fun they had participating in the class(es)!