Private Play Parties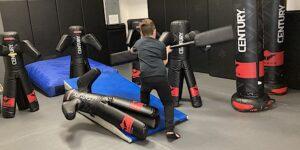 Private Parties (Enrolled Students Ages 4-7)
Got a group of children with energy to burn, and you'd like them to do so in a fun indoor physical play environment outside of your home? We offer Private Parties for SWPMA youth Martial Arts students only* @ ages 4-7 (those enrolled in Lara's 4-5's or 6-7's.). 
Our parties take place at our fully padded Capitol Highway campus and include big body fun with Gymnastics, Martial Arts, Parkour and PE play equipment with: rolling, vaulting, climbing challenges, jumping & crawling, hitting, kicking, swinging, throwing, obstacle course fun, archery, and/or formal Martial Arts options such as stick sparring or bag work. We will help customize your party experience at booking.
Generally, these are 'drop-off' events, as there's not a lot enough room for adults to sit and visit indoors. This approach can vary by age. At younger ages we may want an adult or two to stay on to actively help intervene or redirect behavior, and help children self-regulate.
***These parties can be physically dynamic, fairly loud, and can involve a lot of "contact" with (padded) equipment and transitions. Children with sensory and self-regulation concerns may become easily dysregulated.  If you know that children will be attending – for whom we will need to specially design the event, we will absolutely want to know and plan for this up front to help accommodate and ensure their physical and emotional safety. We reserve the right to attach an additional fee for parties that require significantly more planning, formal instruction, and direct teaching time.
Details
60 minutes total: 1 hour party class: $150 ($250 if no student is enrolled)

8 children max (including enrolled student) 

The experience includes formal introductions to materials/protocol & expectations/rules for safety and help with setup and cleanup. The teacher facilitates, monitors, and helps adapt the action. These sessions involves more spontaneous free play, and less direct instruction than during regular Martial Arts classes.

The final 10 minutes is for final jumps, cleanup and getting shoes on/out the door in a calm, safe, orderly manner. 

Schedule well in advance to ensure possible availability @
Time Slots To Choose From
Fridays: 5-6PM
Saturdays: 1-2PM or 5-6PM
Sundays 3-4PM, 4-5PM or 5-6PM
Payment
Check payment is required in order to reserve one's spot. Checks can be made payable to "SWPMA," and tips are welcome, but not expected or required.
Some groups simply all pitch in $20 each to pay for a rainy-day playdate, team or troop social event for example, but we expect that only one adult will collect and pay us directly please (preferably, a parent or guardian of the SWPMA enrolled child hosting the event).
Parties may be rescheduled due to illness or personal emergency – but not canceled once secured. Waivers can be emailed out in advance. All participants will need to physically hand in a completed paper waiver in order to participate.
*We offer play parties for non-members at an additional $100 for the event.